History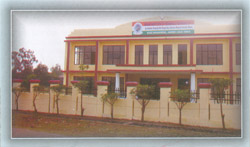 The Institute....
Indian Institute of Technical Trainings, Kartholi/Dassal(Inside Kala Gate), Ban Brahamna, Jammu came up with the vision "to nurture excellence in the education and provide key concepts and power insight into the field of para medical sciences."
The Institute was established by Shri Durga Dass Sharma Memorial Society, a registered society under the societies Registration Act-VI of 1998 (1941 AD) under the able guidance of dedicated medical professionals who have engaged themselves for free medical treatment through camps for over a decade and now engaged for skill development and technical courses to provide sustainable employment opportunities to poor, SC, ST and students from backward areas. The institute transform students into professionals at IIT-T, which is affiliated to State paramedical council/State Nursing Council J&K and recognized by Health and Medical Education Department vide Govt. Order No. 33-HME of 2010 dated 15-01-2010. The Institute is approved by Indain Nursing Council certificate No 18-14 /7925-INC and resolution 174/102/June/2011 Dated 10-12-2011 for ANM and vide their No 02/APR/2012 Dated 19/4/2012 and Renewed on Annual Basis.
Special features.
State of Art infrastructure
Excellent placement assistance in and outside the country.
Well qualified and experienced faculty members.
Library with books of latest editions including National and
International Journals / magazines.
Additional supplementary courses.
Separate hostel facility for boys and girls.
Ideal location and excellent connectivity from the city.